How Our At Home Workouts Got Started


Suzanne Andrews
President, Healthwise Exercise, LLC
Founder, Functional Fitness with Suzanne Andrews, Public Television

PERSONAL HISTORY
"While Suzanne Andrews has had many successful results with her patients over the years, she is no stranger to healing through her unique Functional Fitness method."
After sustaining back and neck injuries from a major car accident, cardiac arrest on the operating table and severe bilateral shoulder injuries from a work accident, Suzanne miraculously regained full function through an integrative Functional Fitness take back your health plan!
Because Suzanne is a rehab practitioner, she focuses on teaching clinically proven corrective exercises (for conditions including arthritis, osteoporosis, insomnia, chronic obstructive pulmonary disease, obesity, balance and more) in all of her DVDs and the PBS TV series to help you reach your best health with chair exercises or if you prefer, standing moves.
Whereas other workout DVD's demonstrate fast paced exercises taught by fitness instructors; Suzanne Andrews therapeutic methods instruct medically proven sequencing, pacing and repetitions at a slower pace for faster results. Studies show that slower exercises actually speeds up results of all over body strengthening, stretching and mobility while decreasing injury risk.
Fitness Editions for Specific Health Conditions Including ... Not Just Your Typical Weight Loss Workouts!
Diagnosed with a thyroid disorder that slows metabolism, Suzanne Andrews found the key to losing 60 pounds through her evidenced based fitness programs and sound nutrition that help you win the weight loss battle. Plus size or bariatric size? Our workouts don't make you jump up and down to a screaming instructor barking orders at you. Insane workouts are not necessary for weight loss!
Originally created in 2008 with its first run on WDSC TV, Functional Fitness with Suzanne Andrews ® broadcasts on 184 Public Television stations airing to over 49 million. Now in the third series, Suzanne takes you to some of the most beautiful destinations in North America for the most motivating workouts ever!

With Functional Fitness, One day longer really is one day stronger!"

QUALIFICATIONS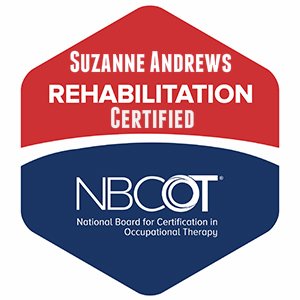 Suzanne Andrews is a licensed Occupational Therapy Clinician with expertise helping you live your life to the fullest. In case you're wondering, "what is Occupational Therapy?" Occupational therapy focuses on a holistic approach to wellness and is the only profession that helps people across the lifespan function at their best through therapeutic use of daily activities (occupations), exercise, cognitive improvement and independence. Occupational therapy practitioners enable people of all ages to live life to its fullest by helping them promote health, and prevent—or live better with—injury, illness, or disability. Because of Suzanne Andrews unique background helping others regain health and independence, Google praised her Arthritis DVD as "top of its type" and her DVDs were also awarded "state of the art qualities for effective delivery and measurable results" by Dr. David J. Demko, receiver of three Whitehouse commissions on aging.
Her doctor recommended COPD DVD selected #1 out of top nine COPD DVDs on verywell.com. Prior to earning her degree with honors, Suzanne worked as a fitness director for the YMCA and acquired certifications in strength training, group fitness, water aerobics, personal training and yoga.
Dedicated to helping you reach your best health through sound techniques, Suzanne constantly updates her medical knowledge with numerous medical certifications each year to insure each exercise DVD demonstrates carefully researched and medically proven techniques. She has contributed to numerous books, major magazines, and written over 200 peer reviewed health and wellness articles for midlife to older adults.
Workout Philosophy
With her motto, "as far as fitness DVDs go, one size does not fit all" Suzanne designs two to three fitness levels in every program so you move at the pace that's right for you. To do that we offer a complete program that offers fitness, nutrition and if you're one of the 49 million who get Functional Fitness with Suzanne Andrews on your local PBS station, you know we have the best expert guests giving you the latest health and fitness tips to you keep you young.
Contributing Healthwise Exercise Experts

With so much evidenced based information going into each and every workout, we thank the following experts who've generously contributed their time and advice.


Margaret Chang, MD, Family Practice, Board Certified

www.coastalfamilypractice.com


Contributing doctor to Functional Fitness with Suzanne Andrews Headache Relief and Arthritis Water Therapy. "Suzanne Andrews stress releasing programs help to retard pain and aging."

Patricia Fredette, MD

www.coastalfamilypractice.com


Contributing reviewer of Functional Fitness Arthritis DVD "Excellent program offering a calming pace and 3 modifications making this suitable for a variety of people with different limitations."

Carlos Mercado, MD

www.eternamd.com


Double Board Certified in Family Practice and Geriatrics Expert guest on Younger in 30 Days Episodes and Reviewer of Diabetes DVD. "The Diabetes DVD is an excellent way to help manage diabetes."

Mache Seibel, MD, Founder of My Menopause Magazine

www.doctorseibel.com


Suzanne Andrew's Functional Fitness is truly remarkable for helping you restore vitality, strength and life. By giving you a choice to do the program seated or standing, Suzanne Andrews makes the program accessible to a mature audience.

Helen Troncoso, Doctor of Physical Therapy

www.helentroncoso.com


Contributing Balance Exercise Expert "Functional Fitness balance workout increases communication from your mind to your muscles (proprioception) and improves your body's stability."

Dr. Roy Vartabedian, Dr.P.H.

www.nutripoints.com/


New York Times Best Selling Author, Nutripoints:

Healthy Eating Made Simple!" Contributing Expert Nutrition Guest and Reviewer of Fat Burning DVD. "Suzanne's energy and expertise are incredible at helping you really enjoy your workout and get results!"

Arnold Vera, MD., M.Sc., C.D.E., F.A.C.E.

www.diabetesveraendo.com


Dr. Vera is an endocrinologist who specializes in endocrinology, diabetes & metabolism and internal medicine. Contributing medical authority on Help Me Sleep Episode and Diabetes. "I'm behind Functional Fitness with Suzanne Andrews 100%."

Nathan Wei, MD, FACP, FACR

www.arthritistreatmentcenter.com


Director of Arthritis Treatment Center in Maryland Expert Guest and advisor on Arthritis Water Therapy Program. "Suzanne is an expert in her field. The arthritis water encompasses everything you need in a arthritis DVD, the cardio, the strength, the stretching, all in one effective program."

We'd also like to extend a heart felt thanks to: Paul D'Arezzo, MD, Larry Grouse, MD, Anne Harrington, RN, Deborah Leader, RN, Vlady Rozenbaum, PhD, Marcella Bakur Weiner, PhD, Kimberly M. Shapiro, P.A.-C, M.M.S., Alina Zhukovskaya, Health Coach, all the Public Television program directors, the entire crew at WDSC TV!