Will You Be Healthwise Exercise Next Success Story?


70 Years Young Success Story
Mom and I want to thank Healthwise Exercise for all the good you do. You and your staff are awesome. I was informed that I will be getting the Presidential Challenge Gold, Silver, and Bronze medals for all of the activity I have been doing with Healthwise Exercise.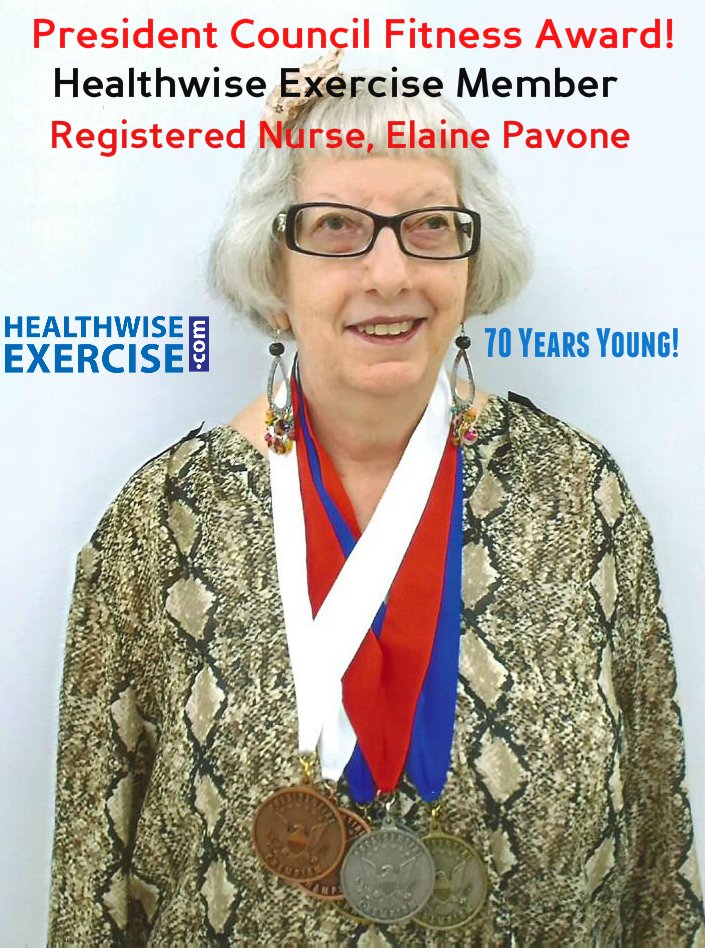 Thank you Elaine for your wonderful fitness success story! You are a true motivation and an example that we can be younger and healthy as we age actively. Healthiest blessings, Suzanne Andrews
Arthritis Relief Success Story

contractor and is active throughout the day. He has good upper and lower body strength but his flexibility is not so good and he is beginning to suffer from arthritis. This causes aches and pains. These workouts are doable for him. He feels better afterwards.


The anti-aging workout is the easier of the two and consists mainly of gentle stretches. It begins with a standing routine and ends with a floor routine. I believe the joint integrity is all standing. It involves more movement. You use a ball, a lemon and a stretchy band. We substituted a pillow for the ball and a tennis ball for the lemon.
This is a great DVD for PM, preventative maintenance, to keep from suffering from the aches and pains of arthritis by retaining your flexibility.
Arthritis
Water Therapy
Relieves Pain Success Story










Thank you for your exercise routine. I started with you in March 2014, weighing 184 Lbs. , feeling horrible with my overweight body. I'm 56 and felt like I was 92 yrs old, barely moving with all the pain in my joints, my blood pressure was through the roof at 168/102. My Dr. wanted me to go on blood pressure pills immediately. I asked him to please let me try a new lifestyle to try to bring my pressure down naturally, and if I couldn't, I'll see him again. I left his office feeling scared to death about dying from what I had done to myself . As of today June 4, 2014, my weight is now 156 Lbs, my blood pressure is 128/78, and all of my pain is gone. I feel like a new woman. I couldn't even keep up with you before. Now, I work out right alongside you! Talk about improvement! Needless to say, I no longer (need) to be on blood pressure medication, haha. I did all this is a large part to your show that I found surfing the TV one morning in March. Thank you for saving me, I got my health back, I can move again, like a 56 yr woman should move.

Sending hugs your way for encouraging me to be better physically, and mentally with your words of wisdom at the end of your program. It really works , and helped me become a new woman, healthy, strong, committed to a life I now love.
Thank you from the bottom of my heart, Noreen Perez.
ANOTHER 5 STAR FUNCTIONAL FITNESS DVD REVIEW!
Hey Healthwise Exercise, LLC
YOU HAVE NEW REVIEWS WAITING TO BE SHARED ON YOUR SOCIAL NETWORK
Share these reviews to drive new traffic to your store!
Functional Fitness 8 DVD Set

Terrific workouts!!

I purchased the set of DVD's and have loved them! They are effective and do work! I have lost inches and toned up! I am so glad I purchased the whole set as I have different workouts whenever I feel like it. Good to change it up and she is easy to follow and explains things so well! You won't be sorry if you get any of these workouts!!! Very satisfied and can't wait for more to come out. Thank you Functional Fitness!!!!

Nancy A.
SHARE
Total Body Strength and Conditioning

Not Easy, But Sure Worth It...

This course is a real bargain and it will get you moving parts of your body that you had forgotten about...
Thanks so much for presenting it.
Art

Art Bormann
SHARE
30 Day Bladder Fix Workout DVD - Natural Remedy for Urinary Incontinence

Hip on Functional fitness.

I have been using the 30 Bladder Fix for two weeks and have improvement with bladder control when I sneeze. The sneezing was my main concern. I have also been using the Arthritis Relief for a couple of months and am amazed at how much better my hips are doing. I feel 15 years younger.

Frances Powers
SHARE
---
Does Suzanne Have a Success Story?

NAME*: Ros

MESSAGE: On one of Suzanne's DVD's she said that at one time she wasn't able to get on the floor. Does she have a fitness history that would be helpful and encouraging to know about? All I read about her is how good she is at everything now. Thank you.


Suzanne's Response:

Great to hear from you! Yes, I was once a size 18 (I'm 5'2") so that's big. Also rehabbed myself after a car accident and that's where the back and neck exercises come from - they work:) I also damaged both shoulders from an accident caused by a patient - I saved the patient- but needed surgery on both shoulders and made a miraculous recovery due to the shoulder therapy program I designed in the Water Therapy DVD and the Arthritis Relief DVD. I went from 0 function to 99% function. I'm not going to tell you it was easy or quick - you have to be consistent to achieve results. All those get fit quick schemes put you at risk of getting hurt. There's no pill on this earth that gives you the benefits of functional fitness so the time and effort are definitely worth it.

Love and healthiest blessings,
Suzanne Andrews


---
Money Saving Success Story


NAME: Liz D

MESSAGE: I wish had I known about Functional Fitness with Suzanne Andrews sooner, I wouldn't not have needed to install those darn High Rise toilets. I had two installed, and I have to replace the guts in one of them already, they don't have the usual guts like a regular toilet, oh no! $85.00 for the guts. I can do the replacement myself thankfully or those old knees I used to have would be costing me upwards of $200.00 for replacing the worn out flappers. Now because of Suzanne Andrews, my knees are strong and my body is much more flexible, allowing me to spend some active time with my grandchildren. So not only am I pain free, can put any child in any car seat no matter what. I can load and unload groceries with ease, and look I could have saved money! Liz Di Pasquale
Overweight Woman Success Story

NAME*: Laura Clines

MESSAGE: Your routines are easy for me, an older and overweight woman, to follow. Great to get healthy to a program I CAN DO. Thanks!
Fun Fitness Success Story

NAME*:Janet Brown

MESSAGE: Thank you for Functional Fitness with Suzanne Andrews. I get up every weekday morning excited to see the new fun fitness routines she will demonstrate. Her show is positive, energetic and encouraging to every fitness level. I've purchased several of her DVDs so I can do more than one session in a workout or do them different times a day. By following along, I have lost weight, gained strength and energy for the long work day ahead.


Son's Happy Mom Success Story

NAME*: Albert Hill

MESSAGE: Your show is one of the best 1/2 hours on T.V. Bless you Suzanne for making my Mom happy & healthier. Albert


---
Stretching Success Story

NAME*: Dave

MESSAGE: At my job as an hourly worker at a UPS warehouse, everything in your stretching routine was a superior form of exercise. I recommend your programs to all my co-workers. Thank you for what you have done, Suzanne Andrews, and please keep doing it.


---
Arthritis Relief Success Story


NAME*: Sheila

MESSAGE: Love, love, love your arthritis tape! I have rheumatoid arthritis and it's just the right speed for me. I have your other tapes (Arthritis Water Therapy) to do in the summer plus Functional Fitness Better Balance and Younger in 30 days.


---
Pain Relief Success Story


NAME*: Florence

MESSAGE: Dear Suzanne: Thanks for all your FUNctional Fitness DVDs. I bought several of them and I am still practicing the exercise to relieve arthritis pain every day. My arthritis pain is almost gone now and I am very pleased with the results. Thank you very much for your help.


---
Taking Time To Exercise Success Story


NAME*: BIPIN ENGINEER

MESSAGE: Dear Suzanne: I exercise while watching you on TV. Today when you were talking about people using the excuse "I do not have time to exercise," I told my friend, "Nobody has time. YOU HAVE TO TAKE THE TIME. If you do not take time out to exercise, you will have no time left. Thanks for giving this wonderful program to the community. Keep doing it and God will bless you for your good work. Bipin Engineer


---
Heart Felt Success Story


NAME*: Duc Viet Nguyen

MESSAGE: Please accept my grateful thanks from my heart for your wonderful program. It really helps to have a program accessible to all and not just the fit. Duc Viet Nguyen, Ph.D Peace Psychologist. Independent Research for Self-Health Cares.


Widow Success Story

After my husband passed away, I would fall asleep every evening to the TV to help keep me company. For 2 months, I woke up to your show until one day, I decided to actually do it! I feel so much better and it's helping me get through this time in my life. Thank you so much for such inspirational workouts. Nora M.