Arthritis Relief Workout DVD
Arthritis Relief DVD Has Two Arthritis Exercise Programs to Ease Joint Pain and Improve Flexibility

Click Arthritis Exercises Video to Preview
Arthritis Relief Workout 1: Joint Integrity - Suzanne guides you with a medically proven arthritis exercises demonstrating the same exercises she uses in therapy to strengthen and stabilize your tendons and muscles to maintain healthy joints, reduce pain, fatigue and improve strength.
Arthritis Relief Workout 2: Anti Aging - A therapeutic arthritis exercise program to reduce pain and stiffness while increasing your flexibility to help ease joint pain. Awarded "state of the art qualities for effective delivery and measureable results with the Boomer Zoomer demograhics" by Dr. David J. Demko, receiver of 3 Whitehouse commissions on aging. Arthritis DVD Release Year: 2009
Indendent Review of Arthritis Relief Workout DVD
"Top class of its type." --Google

Questions?
Call
1-877-523-4848
and get a real live knowledgeable person to help you.
(7 AM - 7 PM Mon- Saturday).
CUSTOMERS WHO BOUGHT THIS ITEM ALSO BOUGHT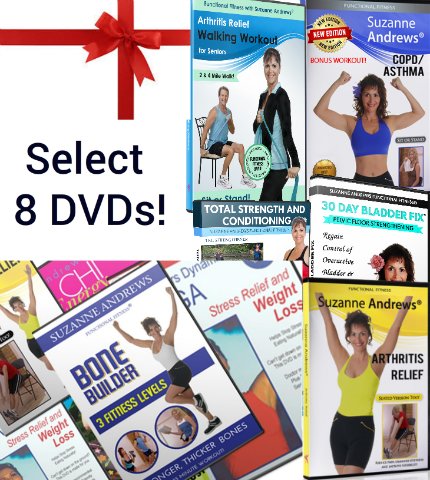 Reviews